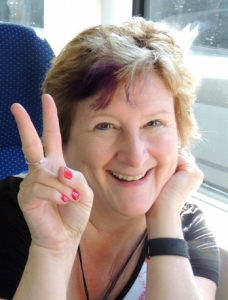 I recently left on a long-anticipated trip to Ireland. It was to be a musical tour with friends and I was super excited to go. But, the universe decided that I was going to do an "alternative tour", a forced tour of the Irish medical systems. This is SO not what I had in mind when I bought my plane ticket. However, it was an unexpected opportunity to see other forms of medical treatment, gain new gratitude for the US medical system, and see firsthand the resilience and spirit of the amazing Irish people.
From the hour and a half ambulance ride over bumpy roads to the 10-hour stay in the Emergency room in Galway University Hospital, every part of this experience was different and surreal. Neither the doctor in Clifton nor the ambulance drivers asked me for insurance information or money. Riding in the backseat of a vehicle hurtling down rough roads, which I'm strapped into a gurney facing backward is right at the top of my horror list. And, yet I survived. The attendants were as funny as stand up comics, and did everything in their power to keep me amused and distracted from the harrowing road trip. The medical staff in the teaching hospital was top notch, courteous, and super cute. That made the whole experience more fun! I've never spent that much time in an ER (thankfully), and it was sobering to watch triage from a front-row seat. They have closed many of the Irish hospitals, and they have about 7 for the whole country. It was like being in an anthill, teeming with staff and patients pouring in the doors from all over the country. I am more appreciative than ever of those who are called to the medical profession, calm and professional in the face of crisis. I could not do it.
My friends know that I collect Santa Claus figures, so when I was moved to the Saint Nicholas Ward at midnight, it was like a little chuckle from the universe. It was a mixed ward, meaning there were 8 other men and women in it. I've never experienced that before. I've always had a private or semi-private room at our hospitals. Imagine one bathroom with 9 people. The Irish are very resilient.
I was finally moved to a 4 person ward with a window the next day so that I could at least look at Ireland. The window was open as there was no air conditioning in the hospital. The privacy was a curtain you could pull around your bed. The curtains were covered with musical instruments….how grand! You really can't make this stuff up.
All in all, it was an opportunity for me to rest, even though that wasn't high on my list of things to do. I was forced to completely stop and rest. There were no phones, no TVs, no distractions since all of my friends were happily on the tour. I did have the internet and a book. No amount of begging caused the Irish surgeon to let me out of the hospital early, which dismayed me. In fact, I checked myself out on his day off, otherwise, I might still be there!
I've been thinking of the blessings of this alternative tour of Ireland. First, I really appreciate our medical system, flawed though it sometimes is. The staff at the Galway Hospital was giving excellent care in spite of being in a facility that would fit right into a Charles Dickens movie. Also, we may complain about hospital food, but generally, we can eat it even though it might be bland. I couldn't eat their food, and they offered only 2 options and NO concierge service.
The staff at Inishfree Tours, which is run by Posi Musician John Smith, couldn't have been more supportive and caring. Sheila and Frank Tiernan, who run the Bed and Breakfast where the tours stay the first night, drove to Galway twice to visit me. This was an hour and a half journey each way, during Race Week (with tons of people in town). She brought me all the things I assumed would be supplied by the hospital, like pajamas, shampoo, soap, bottled water, and candy….yes, she knows me well! Sheila and Frank are forever friends from their kindness when I truly was a stranger in a strange land (that at least spoke English).
It's very humbling and a little scary to be in a hospital in a foreign country.
I'm grateful for Trip Insurance that I bought at the last minute since I really thought it was a waste of money as I didn't plan on missing the trip. The insurance company was on top of my care from the moment that I contacted them. Most importantly, they are going to pay the hospital bill and the part of my trip that I missed. Thank you, God! I will always have Trip Insurance when I travel internationally.
I'm grateful for the amazing people on the tour who all wrote me emails to check up on me and tell me that the tour wasn't the same without me. These acts of kindness helped keep me calm and in good spirits when I realized that the doctors had no intention of letting me out in time to rejoin the tour. Peter, who drives a cab for the Inishfree tours, drove to Galway to get me so that I didn't have to navigate the train and bus systems with my luggage after just getting out of the hospital. He delivered me to the wonderful care of Sheila and Frank, who pampered me, fed me, picked up my medicine and delivered me to the airport the next morning just in time to say goodbye to all of my tour friends and to catch my homeward flight. I am a HUGE fan of Inishfree tours.
I am sure there are blessings in this. Right now, what I know for sure is that I'm grateful for caregivers and deeply compassionate for all of those friends who are going through their own healing experiences. We all know people who would love a visit, a call, or a thoughtful card or email to let them know they're on our minds. I'm on it!
---